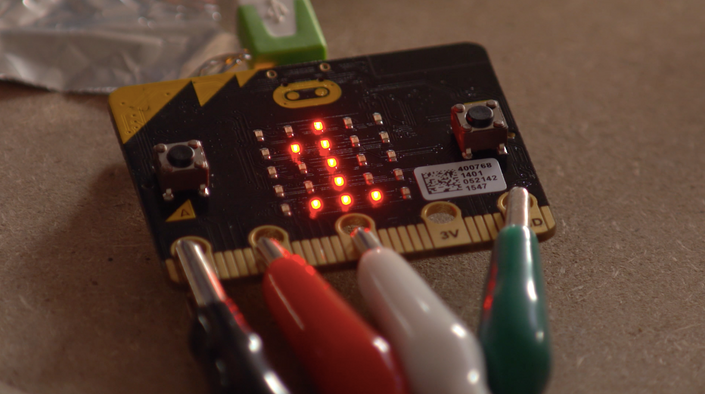 Make Your Own Whack-a-Fruit Game with a BBC micro:bit
How to create a Whack a Fruit game using the BBC micro:bit
Watch Trailer
MAKER ANDREW MULHOLLAND SHOWS YOU HOW TO CREATE A FUN GAME USING YOUR BBC MICRO:BIT AND SOME FRUIT
Maker Andrew MULHOLLAND (Farset Labs) shows you how to use the BBC micro:bit to create a simple game out of fruit!
This class was created as part of DCAL's Creativity Month and is perfect for ages 10+
WHAT YOU WILL LEARN
The basics of using the BBC micro:bit
How to build simple electronics
How to use the micro:bit code editors to write and test your code
Basic coding techniques including loops
How to test and compile your code
When you're finished, make sure to share your work by uploading a picture or video of your own projects. Then share it with us on Facebook, Twitter or Instagram using the hashtag #farsetmicrobit
WHAT'S INCLUDED
Over 20 minutes of video classes presented by Andrew Mulholland from Farset Labs
A video overview of the kit you will need to use
RESOURCES
For this class you will need:
A BBC micro:bit
Micro USB cable
4 x crocodile clips
Your laptop or desktop
Some fruit!
You will also need to use the following websites and software

Difficulty Rating: Beginner
In Partnership With
Award winning Inventor, Raspberry Pi expert, Computer Science teacher, STEMNET Ambassador, UK TalkTalk Digital Hero 2014 and @PiNetDev Developer.